Sherlock AI reveals 6 consumer behavior secrets across people visiting branded F&B chains
Continue reading
Food delivery companies all over the world are using AI to reach greater heights. The same is true about apps such as Zomato, Dunzo, Borzo etc in India. If you are in India and remember the Swiggy app of yore, you may also remember how it was just another option when other apps didn't work or delivery partners were not available. Today, Swiggy boasts of an order volume that has grown over 200%. Applying AI to its workings, the company generates terabytes of data week after week.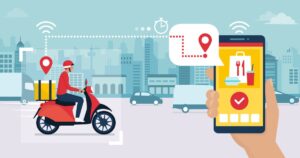 The delights of using the app today are such that it has converted dedicated users of rival apps to being their own loyal customers. How did they do it? In their own words, this was achieved by real-time, micro-optimization of dynamic demand-supply, over and over many times during the day. With this they were able to provide the urban consumers with hitherto unexperienced levels of convenience.  
With the recent hit of the pandemic, more and more people have begun to realise that ordering food online is much more easy and convenient than going to a restaurant. This has opened up a wide range of opportunities for restaurants to go digital and reach a wider range of customers. This seem to be accelerated by COVID, with a big wave of people starting to 'order-in'
The How
Swiggy achieved its goals by creating a three-way hyper-local marketplace wherein the company matched the demands of the consumers with supply from vendors i.e. restaurants, cafes, and stores as well as deliver executives (mostly people looking for quick money and side jobs). They used AI across this marketplace to deliver a delightfully seamless customer experience to achieve unparalleled growth and also drive operational efficiency. Infact, they are now so dependent on AI for their growth that they consider it impossible to go back to the time wherein they relied just on human intelligence to achieve their goals.
Behaviour of the consumer
Collection of consumer data helps Swiggy get hold of the behavioral aspect of things. By knowing their customer's behaviour through this data they can deliver personalized experiences. This is achieved using Catalog Intelligence with which ML models help enrich the Swiggy catalog with meta-data. For example Classifying foods on offer as vegetarian, egg, or non-vegetarian and even categorizing similar products under sections for example: salads, soups, main course, rice, breads, and dessert. 
Use of Customer Intelligence helps the company in customer segmentation on the basis of their affordability (derived using their past buying behaviour) and also log customer churn i.e. when a customer stopped using the app or service. Customized and relevant content is shown to the customers  using catalog intelligence and customer intelligence. You may notice the app showing you your previous order and prompting you to re-order the same. 
This happens as the app may have noticed you ordering the same food from a particular place again and again. This even includes showing you restaurants nearby you depending on your current location and not your usual home or office location. Their Live Order Tracking feature is one of the most popular features among customers. They even get to know of delays and when the delivery partner is at their doorstep.
Want to use Sherlock AI in acquiring higher intent consumers? Drive up app installs, app engagements and user acquisition using Sherlock AI. See how it works here
Vendor X Food Delivery
To tap in the right vendors Swiggy uses AI for time-series based demand prediction models which help the restaurants plan ahead to meet the demand of the customers. The Company also uses ML to cut financial losses by identifying and preventing abuse.
With such advanced uses that are being improvised upon as you read this blog, the food delivery landscape is bound to change even more in the times to come.
Want to explore how Sherlock AI can help your business? Write to us contactus@infiniteanalytics.com
Subscribe to our newsletter for regular updates and interesting insights