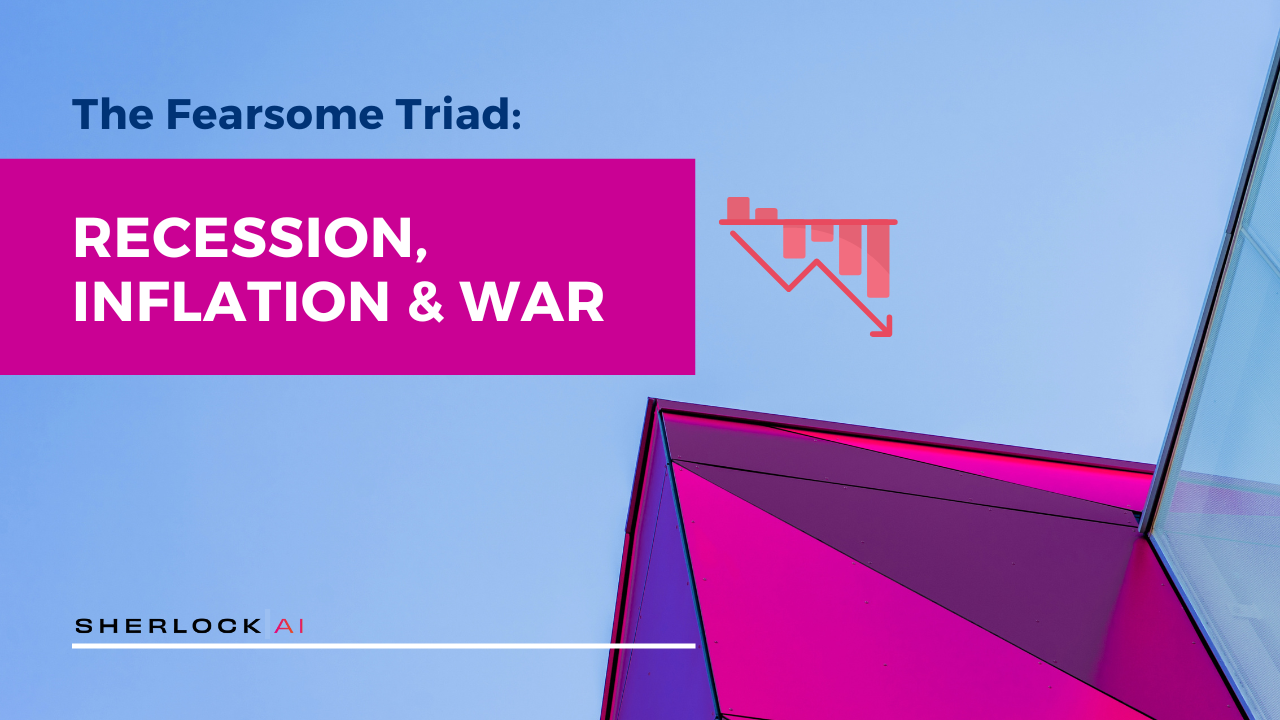 IMF: Recession warning, US, Eurozone, China to be most affected

JPMorgan Chase CEO: Expect a recession in 2023 (in 6-9 months)

Reuters: UK on the brink of recession

Joe Biden: Very slight possibility of a recession

(news sources)
These are just some of the news snippets in the last 24 hours
The Global economy seems to be fighting a war on two fronts- one front is literally a raging war in the continent of Europe (Russia v Ukraine) and the other which is a silent instigator- Inflation. 
2022 has been a rough year globally with surging inflation, geopolitical conflicts leading to a fall in most global indices
US: Nasdaq down 35% YTD, S&P500 down 25% YTD
Europe: FTSE 100 down 8% YTD
Emerging markets: Hang Seng (Hong Kong): 28% down YTD and NIFTY (India): 3% down YTD)
This was something most experts across financial institutions never predicted! But in hindsight, the 2 most attributed causes for such a fall is rising inflation across multiple countries and the geopolitical tensions (mainly the Russia-Ukraine War)
The 2 factors: Inflation and War leading to a high probability of recession?
Sherlock AI rolls up its sleeves and tries to understand what digital chatter and search trends signify over time, and connects the dots between Recession, Inflation and War
Sherlock AI first tries to find out the key correlations between different variables here- in this case, to find out what are the key dependent and independent variables. Does a high virality of the war lead to more recession fears? Or is it the rising inflation which plays the important fiddle to Recession's violin?
Sherlock AI builds something called a correlation matrix for these 3 key variables.
If the correlation coefficient for two particular variables is negative, it signifies a negative correlation. And higher the magnitude of the coefficient, stronger the correlation between the variables. It's very interesting to see that Inflation-War and Recession-War combo have negative correlations!!
Isn't that contrary to reality? (because if war escalates, so does chatter around it, leading to higher inflation and fears of recession!)
The chatter regarding the Russia- Ukraine war is substantially reduced in the last few months, as is evident from the search trends data. This is because since Feb 2022, the online activity around the Russia-Ukraine war has tremendously decreased (though inflation and recession searches seem to be through the roof!)
What exactly is happening in the Russia-Ukraine war then? Why is there extremely low chatter? That's a question for another time- let's come back to the topic at hand.
Russia-Ukraine War digital searches (YTD)
We can discount War as the primary contributor since there is not a strong correlation between the war and recession or inflation
Two peas in a pod: Inflation and Recession
Let's take a look at what people globally are thinking about recession and inflation. It's interesting to note that for people living in Europe Inflation is among their biggest worries, compared to people in US & Emerging markets, where a long term recession is the primary leading trend. This also resonates with the overall 'market slang' about prices shooting up in Europe and economies slowing in US and other emerging markets.
Interestingly, '2023 recession' is among the top searches related to 'Recessions' or 'Inflations' which makes it sound like the market participants and observers expect a recession in 2023. Efficient Market Hypothesis? Let's hope not!
Also, the way governments respond to inflation is among the top of the minds for consumers- 'Inflation Reduction Acts' and 'Inflation Relief Checks' are among the top keywords associated with Inflation globally. One can only hope that State and Federal governments don't make things worse (or take eye off the long-term scenario) by looking at short-term relief checks and quantitative easing
It's interesting to note that most of the inflation and recession related search volume and chatter hikes happen right around the time the Feds increased the interest rates (which makes total sense given the adverse reactions these days have on the markets as well as flooding all the news sources!)
So, what exactly links recession and inflation? Before going into pure play macro-economics, let's relook at what Sherlock AI has to say from the digital search data and correlations. After all, Sherlock AI is the analytical wizard (vis-à-vis Moriarty, who was the macroecon guy!)
We see that there is a strong correlation between how people have been searching for Inflation and how it corroborates the rising digital chatter around recessions!
Now one could argue that these are historical data and there is now way one could have predicted that the recession risks were going to shoot up as it did from the second half of 2022.
But the last exhibit in this article makes me wish that I had taken the help of Sherlock AI a few months back- how I wish I had used Sherlock AI- must have helped me save thousands of dollars!
It;s clearly evident that inflation (or digital chatter about inflation, to be more precise) has been rapidly increasing from the end of 2020 to the end of 2021- to levels which have been unseen and almost 2.5x average digital search volumes!
Did the risk of recession happen over just the last fortnight? NO! But would Sherlock AI have helped a bit in predicting it before? We believe so. (Note to self, ask Sherlock AI to run this script continuously for the next few years- Buy Low, Sell high!)
Oh, and did you know that Sherlock AI can even understand brand level footfalls happening during different days, how long a person stays, and can also model how many transactions and the potential revenue a particular establishment does during the day? If you are still relying on 'traditional' quarterly revenue and sales data or 'monthly' industry sales numbers you are seriously losing out on a big opportunity to capitalize on opportunities.
Know what companies are doing well and are expected to exceed analyst / previous revenue benchmarks even before they publish their results. After all, all the big hedge funds use Alternative data sources (geospatial data, location data, transaction data, digital search behavior) to achieve big alphas on their positions. Why not you? Write to us at contactus@infiniteanalytics.com