01
Let's face it, ads on the net suck. How many times has Amazon suggested you to buy the very product you bought five minutes back? Ever bought a product from an app and Facebook keeps haunting your timeline with the ads for the same till eternity? It's one thing to stalk online presence, but then to use that information with pathetic algorithms is simply mind-numbing.
Recently The Times' journalist Hugo Rifkind's twitter was quite abuzz with people clamoring their own stories about creepy ads from likes of Amazon and Facebook among others. Even Mary Meeker's Internet Trends Report talks of how bad online ads really are!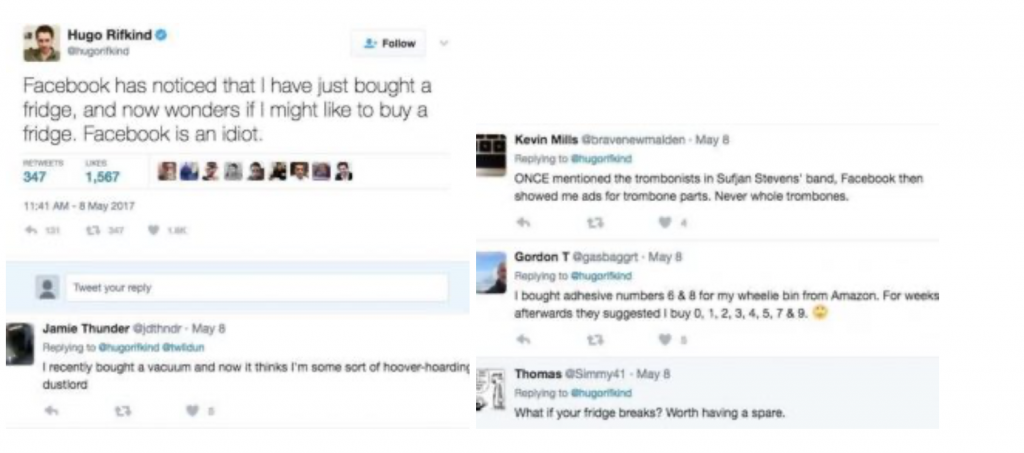 So, why are ads droning about things you don't want to see? It is as much a problem with incomplete, inaccurate data as it is with a lack of intelligent systems that parse these data oceans. Facebook, for example, probably knows more about your likes and dislikes than your spouse but doesn't have information regarding your spending patterns. Amazon may know what you bought but has no clue why.
At Infinite Analytics, we use cutting edge machine learning algorithms to produce a 1:1 marketing strategy for each of your consumers. Through our "persona mapper" we create an accurate user profile based on user's transactional, social and partner data. Using our Artificial Intelligence platform – ian, we generate predictive analytics regarding user behavior and trends.
As we engage in transactions with consumers via text, visual and voice search; ian continuously evolves its persona mapper to make highly personalized recommendations. Moreover, simple user interface also allows you to design marketing programs that meet these exact preferences. Our recent webinar by Co-founder Akash Bhatia talks of this machine – human interface.
Bottom line, our personalization beats that of Amazon or Facebook hands down. For one of our customers, ian boosted incremental revenues of over 125 M$ per year. Our other customers have witnessed rapid revenue and AOV growth over incumbent platforms.
With ian at work, you get a personalized marketing campaign that is way better than others. To witness it through a product demo, please write to us at contactus@InfiniteAnalytics.com
Jeff Jarvis is a US based journalist, professor, and an investor for over five decades. On his blog, Buzzmachine.com, the NYC insider tracks new media developments.
October 19, 2021
know more
Jeff Jarvis is a US based journalist, professor, and an investor for over five decades. On his blog, Buzzmachine.com, the NYC insider tracks new media developments.
October 17, 2021
know more
Jeff Jarvis is a US based journalist, professor, and an investor for over five decades. On his blog, Buzzmachine.com, the NYC insider tracks new media developments.
October 9, 2021
know more
Jeff Jarvis is a US based journalist, professor, and an investor for over five decades. On his blog, Buzzmachine.com, the NYC insider tracks new media developments.
October 7, 2021
know more